Show Report
PATR1. SHOW PROFILE
Date: 2018, March 15(Thu.)-18(Sun) 10:00-18:00
Venue: Taipei Nangang Exhibition Center, Hall 1, 1F & 4F
Advisory Board: The Bureau of Foreign Trade, MOEA / Industrial Development Bureau, Ministry of Economic Affairs
Organizer: Taipei Bakery Association
Co-organizer: Department of Information and Tourism, Taipei City Government / International Federation of Chinese Bakery & Confectionery Association / United Bakery Association ROC / Taiwan Confectionery, Biscuit & Floury Food Industry Association / China Grain Products R & D Institute / Taiwan Gateaux Association / Taipei B.I.S. Association / National Kaohsiung Hospitality College / Taipei Kai-Ping Culinary School
Executor: Chan Chao Int'l Co., Ltd. / Universal Communication Group, Ltd.
Media Partner: foodNEXT / ihergo / Fooding
PART2. SHOW STATISTICS
1. Exhibitor Profile
Show scale: 406 exhibitors / 1,762 booths

2. Visitor Profile
Total 162,188 visitors from 56 counties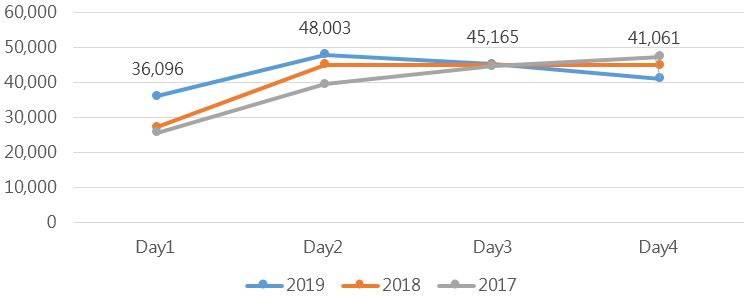 PART3. EVENT RESULTS
1. Competition
Name
Content
a. 2018 City Bread Championship
The mission of 2018 City Bread Championship is to「Exchange City Cultures and Sharing Baking Techniques」by hosting an International Baking Competition in the Gourmet Capital – Taipei, inviting professional chefs from all the major cities in Asia as well as in Taiwan to compete for expressing the Art of Baking.

b. 2018 BWC Asia Pacific Selection

Taiwan Selection

The winner from the Coupe Louise Lesaffre Asia Pacific Selection - 2018 Taiwan Selection will go to Asia Pacific Selection, fighting against other countries for the chance to the Coupe du Monde de la Boulangerie in France.
c. 2018 Gâteaux Cake Contest
The Taiwan Gâteaux Association was established with the objective of enhancing skills in the baking industry by organizing periodic baking competitions and seminars. The winner of 17th Taiwan Gâteaux Cake Contest at 2018 Taipei International Bakery Show will be the contestant for Japan Cake Show in Tokyo. The Taiwan Gâteaux Association aims to cultivate a new generation of bakers, helping them to become professional pâtissiers and meet international standards.
2. Baking Workshop
12 seminar, total over 750 participants
3. Free Entry for Bakery Licensee
14,297 licensees registered
PART4. MARKETING & MEDIA RESULTS
1. Media Exposure
Total 277 post, including newspaper, TV, internet and magazine. (growth 70%)
2. Official Website
Total views 1,375,150 (En version views grew 36%)

3. Fan Page
Total reach 2,251,743 persons and 40,776 fans (growth 13%)